Did you ever think you'd reach a stage in your life where Home Depot felt like Toys-R-Us? I never would have guessed it, but I find myself wandering through the aisles eyeing all sorts of unnecessary (but oh-so alluring, just look what it can do!!! or lives would be so much easier!!!) tools and tool accessories. But I'm a frugal gal and always aware of our bottom line, so I rarely buy something we don't really need. I save the "fun" tools for holidays.
Here are a few goodies that any DIY'er should appreciate in their stockings this year:
Magtite 25 Foot Magnetic Tape Measure ($23)
How many times have you gotten up on a ladder, roof, or otherwise inconvenient location only to realize you forgot your tape measure? And how many times have you've lost it mid-project in the same black hole that takes all your pencils and masking tape? Well, problem solved….


This belt clip keeps it the tape measure right on your hip without adding extra wear and tear to your belt loops the way that little metal clip does. Hurrah!
VETO Pro Pac Tool Bag ($94)
This bag isn't cheap, but it's made to last forever, gets great reviews from the pros and has a pocket for everything. Over 60 pockets of varying sizes, infact – enough to hold over 75 hand tools. It's also got a padded strap and grippable handles in case you're lugging it around alot. It's the Rolls Royce of tool bags!
Switchblade Screwdriver ($20)
How McGyver will you look when you whip this puppy out? Push a button, and the blade flips out. It's smaller than a 4-n-1 and carries 5 tips in it's handle. Cool and handy!

The "Slanket" ($50)
Our house, like every other old house in upstate New York, is uncomfortably cold from November until late March. As soon as day light savings hits, we dig out the extra blankets, fluffy slippers, and long underwear. Even with added layers and blankets, I always seem to be cold. This blanket is genius – it comes with sleeves, so you'll stay nice and wrapped up without having to readjust things every time you shift on the couch. And crafty people ought to be able to make something similar for about 1/5 the cost!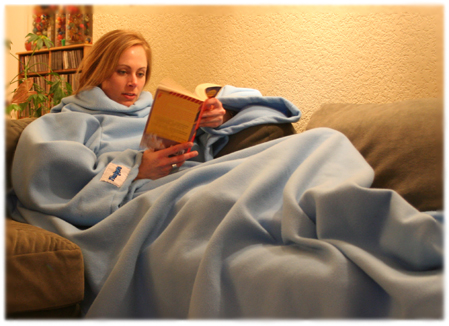 The Silent Paint Remover ($400)
I have spent many an hour laboring over paint removal. I'm a heat gun devotee, but I'd surely be an SPR addict if it was anywhere near our price range. It uses infrared heat to soften paint and varnish, and their scraper tools are supposed to be better than any you get from the hardware store. If you have large paint removal projects in your future, it'd be worth the investment for all that time saved. Or, if you're feeling super DIY, you can try making your own!
iPod MP3 Player ($100 – $250)
Ok, so it's not exactly a tool. But having music keeps my mind from wandering when I'm doing the mindless projects, to the point where I can happily spend hours removing wallpaper with my fingernails. It'll increase your efficiency and keep you happy. That's what tools are for, right?