This weekend, our kitchen took another giant step away from a drab, dirty, box of a room we hate to an attractive and functional room we actually WANT to use and spend time in.
First, the goodies we purchased to make it happen:
A Whitehaus double-bowl farmer sink from Buykitchensinks.com and a very pretty Pegasus faucet from our favorite shopping-at-the-last-minute fallback store, Home Depot ;)
The sink was ordered last week and arrived on Monday. Gotta love quick shipments! We spent most of the weekend prepping for it's arrival, so Teague hit the ground running when the UPS man dropped the giant box off on our front porch. By the time I got home from running errands, he was already half done with the install. He's a madman.
It was simpler than I expected (easy for me to say – I mostly stood back and watched the progress). All in all, it took about 4 hours to cut the wood countertop and get the sink mounted, and another 2 hours to install the new faucet.
His first step was to decide on a rough layout for the sink and fixtures. He took careful measurements, decided on placement, and traced out the sink profile on one of our countertop slabs.
After that he used a scrollsaw to cut out the hole for the sink. He did this in the kitchen since it's absolutely freezing out, so we've got the sawdust to prove it.
After cutting out the opening, he installed framing for the undermount bars that came with the sink. The cupboard sides we attached the bars to didn't seem too sturdy, so the additional framing was mostly for peace of mind.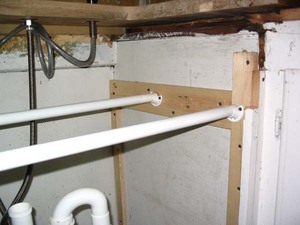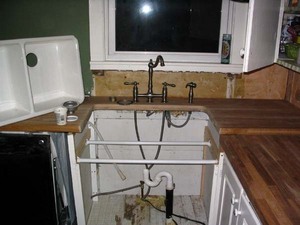 Once the mount bars were screwed in, we sat the sink in and set the countertop in place, and stood back to take a long, proud look.
The plumbing part wasn't too bad either – there are two drains, so he had to T the original PVC line. The dishwasher drain line runs under the sink too, so it's an interesting intersection, but by the end of last night it was ready to go and working great.
Today, Teague set a bead of caulk (yes, caulk again!) to the sink rim and set the counter.
Tada!!! We're ready for washing and rinsing in style.